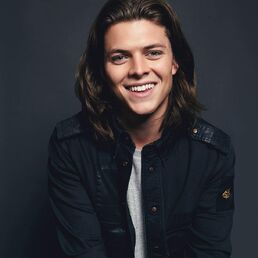 Alex Høgh Andersen
dán színész. 1994. május 20-án született Dániában. Charlotte Høgh anya, Thomas Andersen atya.
Alex
oktatása a Koppenhágai Egyetemen Studying Film & Media Science volt, 6 év drámaképzés a Eventyrteatreten. Anyanyelve dán, angolul beszél, és ismeri a német, a svéd és a norvég nyelvet. Első színészként szerzett első szakmai tapasztalatait, amikor az őszi őszi bemutatókon szerepelt.
Alexnek
első szerepe volt Arthurnak 2010-ben a "Kard a kőben" színházi produkciójában. 2012-ben kritikai elismerést kapott a mániákus-depressziós Dionysos színházi "Hercules" -ként való ábrázolásáért. 17 évesen Alex befejezte a Eventyrteatret-t, de színészként dolgozott tovább a középiskolában. Első szerepét a TV-ben a "Tvillingerne og julemanden" karácsonyi naptárban mutatta be William nagy testvérként. A műsorot 2013-ban közvetítették a nemzeti televízióban. William szerepére
Alex
elnyerte az év közelgő TV-sztárjának elismert díját. Azóta
Alex
Hiro dán hangját a Disney "Oscar-díjas" Big Hero 6 "-ként nevezte el, a dán filmkeret 18 Frames néma fiát játszott a" Ødeland "-ban, és kis szerepet töltött be Tobias Lindholm" A War "című filmjében. 
Alex
jelenleg játssza az
Ivar
The Boneless-t a rendkívül elismert TV-sorozat 
Vikingsben.