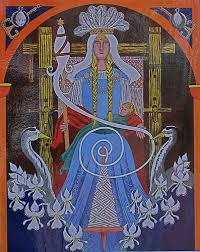 Frigg is the wife of Odin, the queen and the foremost among the goddesses of the Æsir in Asgard. Frigg appears primarily in Norse mythological stories as a wife and a mother. She is also described as having the power of prophecy yet she does not reveal what she knows. According to legend, numerous futrue kings where sent to Frigg as children to be raised into being proper kings. 
Frigg is described as the only one other than Odin who is permitted to sit on his high seat Hlidskjalf and look out over the universe. She is the goddess of motherhood, love, marriage and has the gift of prophecy.
Ad blocker interference detected!
Wikia is a free-to-use site that makes money from advertising. We have a modified experience for viewers using ad blockers

Wikia is not accessible if you've made further modifications. Remove the custom ad blocker rule(s) and the page will load as expected.