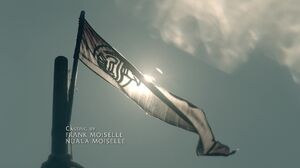 The House of Lothbrok (Lothbrokings) is the current royal house of Kattegat. Their founder and leader was Ragnar Lothbrok and the symbol is the raven, a reference to their claimed ancestor Odin, the raven-god.
Following Ragnar's death in England and the murder of Queen Aslaug by Lagertha, the line of succession is unclear and who become the new head of the House has yet to be seen.
The house consists of:
Affiliated with the House of Lothbrok:
Family Tree
Edit
Ad blocker interference detected!
Wikia is a free-to-use site that makes money from advertising. We have a modified experience for viewers using ad blockers

Wikia is not accessible if you've made further modifications. Remove the custom ad blocker rule(s) and the page will load as expected.