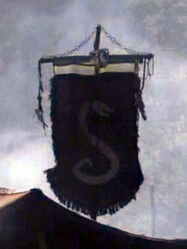 The house of Sigfred was the royal house of Denmark. Their colors where black, white and green and their symbol was a serpent. Their aggression towards the House of Lothbrok and Kattegat led to their demise and eventual extinction.
At the end of the 8th century, the house consited of:
King Horik † (Son of Götrik; killed by Ragnar Lothbrok and his inner circle):

Queen Gunnhild † (Wife of Horik; killed by earl Lagertha):

Erlendur † (Second oldest son of Horik and Gunnhild; murdered by his own wife);
Various sons and daughters of Horik and Gunnhild †; all slained by men loyal to earl Ragnar Lothbrok during the Bloodbath at Kattegat.
Associated members:
Former Members
Edit
Ad blocker interference detected!
Wikia is a free-to-use site that makes money from advertising. We have a modified experience for viewers using ad blockers

Wikia is not accessible if you've made further modifications. Remove the custom ad blocker rule(s) and the page will load as expected.