A Norse house (or clan) is a group of common social descent and kinship in Scandinavia. This social structure preceded the viking age, lasted after the viking age into the early modern, where it declined with the coming of centralised states. Typically in the viking age Norse houses had a suffix such as -ung or -ing. Usually the houses of the viking age where named after a famous ancestor. Mostly the house would be named after a man, but if the ancestral mother's name carried more prestige the house would take that woman's name.
Known Houses
Edit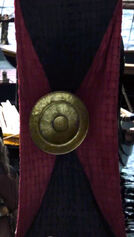 Ad blocker interference detected!
Wikia is a free-to-use site that makes money from advertising. We have a modified experience for viewers using ad blockers

Wikia is not accessible if you've made further modifications. Remove the custom ad blocker rule(s) and the page will load as expected.