"Raid" is the fifth episode of the first season of Vikings. It is the fifth episode of the series overall. It first aired on March 31, 2013. It was written by creator Michael Hirst and directed by Ciarán Donnelly.
Synopsis
Edit
In the Great Hall of Kattegat, a seer reads Earl Haraldson's future and tells him that Ragnar Lothbrok searches for his death. The unanswerable question is whom do the gods favor more? As a man willing to defend his power and status to the death, Haraldson intends to take precautionary measures. Ragnar, his home and farm burned by the Earl, is hurt but hidden safely away. He must now choose the path that will lead him back to his freedom.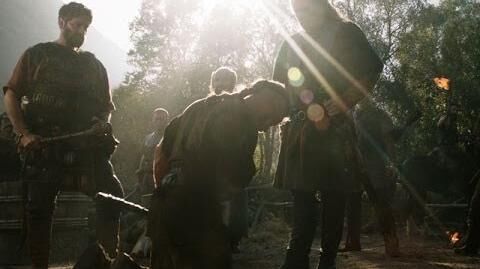 Guest Starring
Edit
Additional Cast (in order of appearance)
Edit
Kevin Flood as Old Man
Maude Hirst as Helga
Elinor Crawley as Thyri
Trevor Cooper as Earl Bjarni
Jefferson Hall as Torstein
Uncredited
Edit
Ad blocker interference detected!
Wikia is a free-to-use site that makes money from advertising. We have a modified experience for viewers using ad blockers

Wikia is not accessible if you've made further modifications. Remove the custom ad blocker rule(s) and the page will load as expected.